This report has been produced together with High Dividend Opportunities authors Philip Mause and Jussi Askola.
CBL & Associates Properties Earnings Report
If we had to name one company which we always await very impatiently to report its results, we would probably say CBL & Associates (CBL). The Class B mall REIT is a true battleground stock suffering from extreme market pessimism, and we are always on the look out for new data to stay ahead of the market.
Overall, CBL's second quarter results are fairly favorable with a mix of good and some negative news which is usual for a company selling at just 2.8 times expected cash flow.
Let us start with the positive and we will then move to the more concerning aspects.
POSITIVE NEWS
CBL beat on FFO as well as revenue expectations by a material margin of 10%.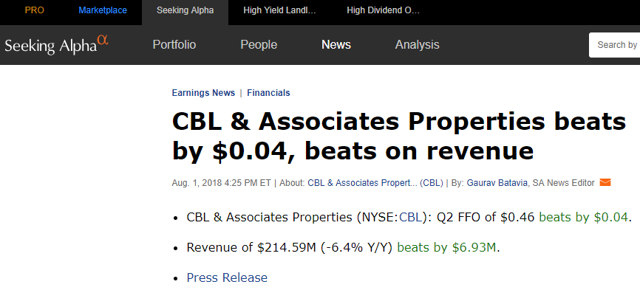 Most importantly, the full-year guidance for FFO was maintained. The FFO guidance was in the range of $1.70 – $1.80 per diluted share. Using a midpoint of $1.75/share, CBL currently covers its yearly dividend of $0.80/share per year at 220%.
Also using a midpoint FFO of $1.75/share, CBL trades at 2.8 times FFO. This means that CBL currently generates income of 35% cash returns based on its current price, out of which it pays a dividend of 16%, and keeps the rest (19%) to improve its property portfolio.
CBL appears to be addressing its vacancy issues fairly well, and the pipeline of redevelopments remains well managed. Redevelopment activity is underway at eight properties with two redevelopment projects opened during the quarter and two new projects added to the pipeline.
Same-center sales per square foot for the stabilized mall portfolio were $376 per square foot compared to $375 per square foot for the previous year. So shoppers are still shopping!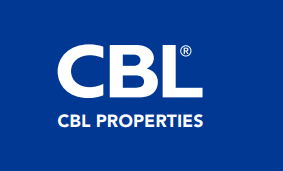 There are a lot of great things to be said about the quarter. The company beat on its quarterly guidance and was in-line on its yearly guidance. The hard work continues and properties continue to fight the growth of e-commerce by adding more resilient tenants. The process requires significant investments and leads to higher vacancy in the short run, but the long-term picture looks promising for a company trading at just three times FFO.
Now on to the negative side…
NEGATIVE
The same-center "net operating income" ('NOI') dropped 6.9% – a continuation but not worsening from previous quarters.
The portfolio occupancy showed a slight decline from 91.6% to 91.1% compared to a year earlier.
On the conference call, management said they expect that the company will recover and make a good comeback already in mid-2019. However they indicated that they could lower the dividend around November 2018 to use the saved capital for developments to improve their portfolio.
About the possible dividend reduction
During the earnings call, management said that if they can reduce the dividend they will do it. CBL's CEO said during the Q2 Earnings Call:
On the dividend, we wanted to communicate that is a possibility. We don't want to surprise the market with something in November without giving a heads up that we're going to look at it over the next few months as we have better visibility into 2019 taxable income, 2019 budgets for NOI and FFO. There are a lot of moving parts to use your terminology that go into that, including the NOI results, the recovery and leasing as we look ahead. And also, transactions that impact taxable income whether the dispositions or our lender transactions. So we just wanted to make sure that the market realizes, we're going to look at it and also that if we can reduce the dividend and use those funds to fund the redevelopments to reduce debt, that is our most efficient source of capital and we'll take advantage of that opportunity to do so.
So a dividend reduction will depend on CBL's taxable income. Basically CBL management would like to reduce the dividends in order to use the funds to speed up the portfolio repositioning. However, according to Property REIT regulations, CBL (like other Property REITs) is required to distribute 90% of their income to shareholders in form of dividends. Therefore, by law, CBL may not be able to reduce the current dividend of 16%, especially since this is a highly profitable company based on the level that CBL distributes.
This is what we have to say about the potential dividend cut
First of all, it's clear that CBL does not need to reduce the dividend. FFO more than twice covers their dividend. The fact is that they may not be allowed to reduce the dividend should make it clear that this company is highly profitable.
We believe that it was a responsible move by management to detail their intentions about a possible dividend reduction. This shows that this management is thinking forward and doing their best as far as shareholders are concerned. A surprise dividend cut is very badly viewed in the investment community.
Even assuming that they are able to reduce the dividends, any cut is likely to be small and the stock is likely to continue to yield over 10%.
Obviously, the reason for the selloff today is related to this possible dividend reduction that is causing concerns to some CBL holders who are predominately invested for the high yield. We view this as a non-issue and have said it many times: CBL does not need to cut its dividend given the enormous cash flow (less than 50% payout ratio). But if it can invest its capital at a higher rate of return, we prefer them to do so rather than paying the dividend. In the long run, what matters is that they stabilize the portfolio by improving properties as this will unlock the most value to shareholders.
We also should note that the level of the dividend payment has no impact on the value of the assets, nor on the profitability of the company. It's just a "corporate finance" decision on how to maximize value.
Therefore, as long-term shareholders, we are happy to continue holding CBL and view any potential panic selling as an opportunity to buy more shares on the cheap. After all, it is the real results which matter (FFO, sales per square foot, etc…) which were solid and outperformed expectations this quarter.
Insider Purchases
The latest data from SEC filings indicate that there were about $2 million worth of CBL shares that were made under the company's dividend reinvestment program during the month of July 2018. These insider purchases below to CEO Charles Lebovitz andd irector John Griffith. Usually, a shareholder tells his broker to participate in the program and the dividend is automatically reinvested in more shares each quarter.
It's encouraging and it shows general confidence in the company that insiders are continuing to participate in the dividend reinvestment program rather than take the dividends in cash. Dividend reinvestments worth $2 million by insiders are certainly worth noting.
Final Thoughts
The key for us is that bankruptcy activities in the retail and malls are slowing down, and the outlook for CBL is clearly improving. Sales per square foot are stable. Leasing or redevelopment of the closed anchor stores seems to be reasonably good. The FFO guidance remains intact. Finally, even after a dividend reduction, we believe that it's unlikely that the new yield will be below 10% based on the current price. Our best advice is to keep holding CBL. We are likely to see some volatility in the share price, but we are long-term shareholders and our investment thesis remains intact, especially given that CBL trades at 2.8 time FFO. This is a ridiculously low valuation and we believe that the downside risk is limited for this profitable company.
Despite the fact that the shares of CBL were down by 10% yesterday, it is worth to note that the "Core Portfolio" of our Premium Service High Dividend Opportunities was up by 0.5% for the day. This is the magic of having a widely diversified portfolio, and we strongly recommend that readers keep that in mind. We usually recommend a maximum allocation of 2% to 3% of the portfolio to individual high-yield stocks such as CBL, and 5% to 6% to high-yield exchange traded products (such as ETF, ETNs and CEFs). These products provide instant diversification and usually result in a lower overall risk and lower portfolio volatility.
Disclosures: High Dividend Opportunities Authors Philip Mause, Jussi Askola and myself are long CBL and we have no plans to sell. I personally bought more CBL during the selloff on Thursday and I'm prepared to buy more in case of further weakness.
On a final note, we also are recommending the preferred stock of CBL: CBL & Associates Properties 7.375% Dep Shares Cumulative Preferred (CBL-D) to our conservative investors. CBL-D currently yields 9.8%. Should CBL be successful in reducing the dividend, this should increase the dividend coverage of CBL-D. This is another strong buy.
If you enjoyed this article and wish to receive updates on our latest research, click "Follow" next to my name at the top of this article.
About "High Dividend Opportunities"
High Dividend Opportunities is a leading and comprehensive dividend service ranked #1 on Seeking Alpha, dedicated to high-yield securities trading at bargain valuations. It includes an actively managed portfolio currently yielding 9.7% – with a selection of the best high-yield MLPs, BDCs, Property REITs, Preferred Shares, CEFs and ETFs. Subscribers benefit from "Live Alerts" to buy securities at attractive prices. We invite income seekers for a 2-week free trial to help you identify the future outperformers in the high yield space. For more info, click here.
Disclosure: I am/we are long CBL.
I wrote this article myself, and it expresses my own opinions. I am not receiving compensation for it (other than from Seeking Alpha). I have no business relationship with any company whose stock is mentioned in this article.
Related Posts: