"If I had a million dollars we wouldn't have to eat Kraft dinner

(But we would eat Kraft dinner)

(Of course we would, we'd just eat more)

(And buy really expensive ketchups with it)

(That's right, all the fanciest dijon ketchups, hmm)"
– If I Had $1000000, Barenaked Ladies, 1992
If I had a trillion dollars, I'd buy you Apple, a really, really big Apple. In the latest of silly headline grabbing stock market milestones, Apple (NASDAQ:AAPL) became the first company in history to sport a market cap of over $1 trillion. In a word extraordinary. Of course, the more cynical investors among us seized the occasion to declare another potential bell being rung drawing us closer to a stock market peak. What are the implications, if any, for Apple and the broader market in general in achieving this notable distinction?
Growing to the sky. What is remarkable about Apple's feat is how quickly it has risen on the market charts along with its select group of technology companions over the last few years. Consider the following. It was just less than three years ago in October 2015 that it was considered a notable distinction that three publicly traded U.S. companies in Apple, Google (NASDAQ:GOOG) (NASDAQ:GOOGL) and Microsoft (NASDAQ:MSFT) each had market capitalizations in excess of $400 billion.
Today, this number has doubled to six U.S. companies, as Amazon (NASDAQ:AMZN), Facebook (NASDAQ:FB), and Berkshire Hathaway (NYSE:BRK.A) (NYSE:BRK.B) have joined the $400 billion club. But what stands out far more is that four of these six in Apple, Amazon, Google and Microsoft all now have market caps in excess of $850 billion.
Size in perspective. Putting this size of the top four companies in the S&P 500 Index into context, their collective market cap of $3.67 trillion is greater than the market cap of the 268 smallest companies in the S&P 500 Index combined. Throw in Facebook and Berkshire, and these six companies are collectively larger than the 310 smallest companies in the S&P 500 Index. Concentrated risk anyone?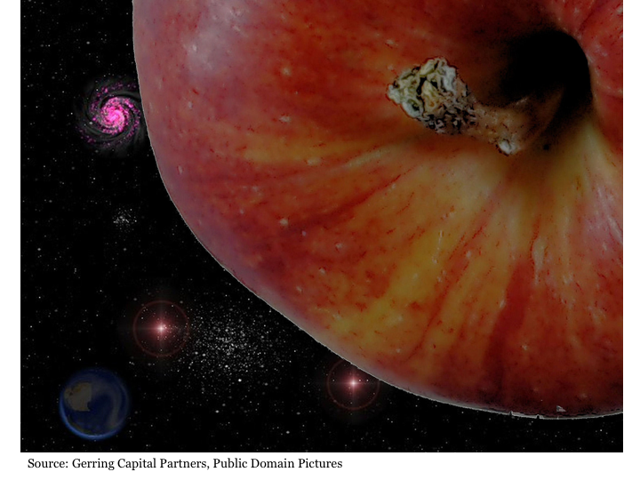 Chartered territory.This is not the first time in modern stock market history where a technology stock has differentiated itself on the market capitalization charts. It was back in 1999 when Microsoft claimed the distinction of becoming the first company with a market capitalization in excess of $500 billion. At the time, it was joined in the club by the likes of General Electric (NYSE:GE) and Cisco Systems (NASDAQ:CSCO).
But Microsoft was a cut above, for at its peak at the time on December 27, 1999, it reached an astounding $614 billion, making it more than the size of the fourth and fifth ranking companies by market cap on the 1999 list in Walmart (NYSE:WMT) and Exxon Mobil (NYSE:XOM) at $586 billion combined.
So where would Apple's $1 trillion market cap place the company against this 1999 powerhouse? Notably, Apple would be a remarkable 13% larger at $697 billion. Brrrr.
One final notable point. It would take more than 13 years before another U.S. company could boast the distinction of a market cap over $600 billion when Apple first reclaimed the mantle back in 2012 (it went on to surrender it a few times since before finally locking it in (for now?) a few years ago).
Important differences. Of course, more than size matters when comparing two different companies over two different time periods even if they are in the same industry and trading in the advanced stages of major bull markets. For just because Apple is big or bigger than Microsoft in 1999 does not mean that it is destined to realize the same fate such as the -65% decline in value in Microsoft shares over the subsequent four years.
Valuation is one important difference between Microsoft then and Apple today. Microsoft at its 1999 peak flaunted a price-to-earnings ratio of 57 times earnings. Apple by comparison today trades at a far more modest 18 times earnings. While this multiple is notably higher than Apple's recent historical average in the 10 to 14 range, it is hardly a multiple that would be considered excessive on an absolute basis. It might be something for the likes of Amazon, Facebook, and Google to worry a bit more about, but not Apple.
Cash position is another stabilizing element for the Apple today relative to Microsoft back in 1999. Back then, Microsoft had cash on hand of $41.5 billion, which would equate to roughly $62 billion in today's dollars. Apple by comparison has more than $243 billion in cash on hand as of June 30. This cash mountain alone would rank it as the 16th largest company in the U.S. ahead of UnitedHealth (NYSE:UNH) and would make it the 45th largest economy in the world the equivalent in size to Finland.
Regulatory conditions are a third important differentiating factor between Microsoft in 1999 and Apple today. Back then, Microsoft was coming under increasing pressure from antitrust authorities because of the way it was leveraging its ubiquitous operating system in the distribution of its Internet Explorer web browser. Coming under intense antitrust scrutiny has a way of taking the wind out of the sails of a company's operational performance, and such was the case into the 2000s for Microsoft (the bursting of the tech bubble certainly did not help either). Apple is not facing similar pressures today.
Perhaps a more relevant comparison. Instead, the comparison with Apple today that could be argued to make more sense would take us back a bit further in time to 1985 when IBM (NYSE:IBM) ruled the stock market world. With a market cap of nearly $100 billion at the time, it was a stock market beast that made up more than 6.4% of the entire S&P 500 Index at the time, which is greater by half than Apple's 4.3% weight today.
Yet despite IBM's extraordinary size at the time, Apple's market cap today would have been more than 4.5 times greater in 1985 dollars at $450 billion. Viewed differently, IBM's market-dominating market cap in 1985 would not even crack the top twenty today at $219 billion in 2018 dollars. Notable.
Changing the world. Even more so than Apple today, IBM was an absolute force with its PCs spreading across the world much like Apple's smartphone has in recent years, albeit with greater competition. Moreover, IBM was an innovation leader with its research team that included scientists that were winning Nobel prizes for their breakthrough work. The company was flush with cash and it appeared that the sky was the limit.
And perhaps most importantly, the stock in 1985 traded at what would be considered extraordinarily discounted valuations today in the range of 10 times to 12 times earnings. Even after adjusting for the fact that 10-Year Treasury yields were much higher back then versus where they are now, the valuation of IBM would be roughly on par to Apple's today.
The threat of complacency and time passing you by. In the end, a primary threat facing Apple today is the same that eventually took IBM down from its throne more than 30 years ago. The company remained a force and research innovator into the late 1980s and early 1990s, but it became increasingly complacent in capitalizing on new technological advancements as new competitors entered the marketplace and claimed dominance over the more profitable growth segments of the computer business. By the early to mid 1990s, IBM's market cap fell out of the top ten to below $35 billion, as the stock price lost roughly -75% of its value by 1993.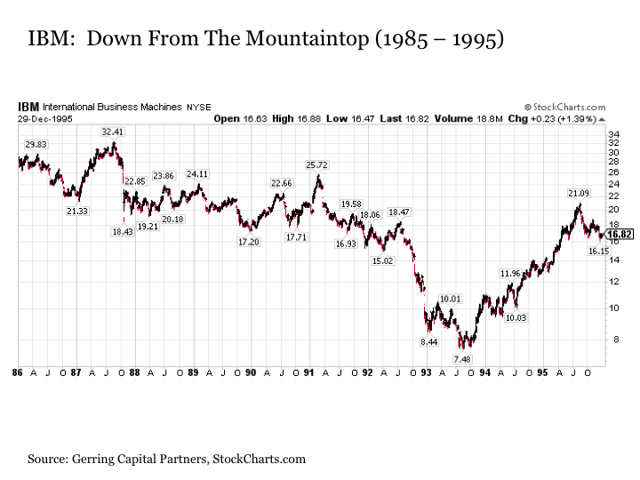 Who are you today? It's been 17 years since Apple came out with the first iPod. It's been 11 years since the launch of the iPhone. It's been 8 years since the iPad was first introduced. Then there is the Mac computers. And it's been 7 years since the passing of Steve Jobs.
Together, these products make up nearly 80% of total company revenues. iPhone sales are still growing, but overall smartphone sales may have now passed their peak and heading into decline. And speaking of rising competition, Apple was just passed by Huawei falling to third in global smartphone sales, already behind market share leader Samsung (OTC:SSNLF). As for the iPad, product sales are already flat to declining. Ditto the Mac, which from a laptop user perspective are essentially the same computers they were nearly a decade ago. And I think I may be one of the only people left on the planet that still owns an iPod.
What is your next extraordinary breakthrough? It's been a long time since Apple has captivated the world with an earth-shattering new product. Apple Watch? Yawn. Apple TV? Zzzzzz. I know Apple Services is shaping up to be the next big play for the company, but in many respects, this business feels much more like a counterpunch than trailblazing. And while Apple has been dabbling in a variety of interesting new technologies over the past several years, I've been seeing much more fourth or fifth mover disadvantage out of the company in trying to capitalize on these new growth areas than anything else.
An empire in decline? Overall, Apple is undoubtedly still a powerhouse. But as we move toward the end of the 2010s with the company cresting over $1 trillion in market cap for the first time in history, I'm feeling and seeing a lot more IBMish circa 1980s characteristics than anything else, as the likes of Microsoft and Amazon appear to be moving much more aggressively today on the new product innovation front. As a result, I am left to wonder whether it will be Apple pioneering the course across the next major market cap milestone. If history is any guide, I have my doubts.
Disclosure: This article is for information purposes only. There are risks involved with investing including loss of principal. Gerring Capital Partners and Retirement Sentinel makes no explicit or implicit guarantee with respect to performance or the outcome of any investment or projections made. There is no guarantee that the goals of the strategies discussed by Gerring Capital Partners and Retirement Sentinel will be met.
Disclosure: I/we have no positions in any stocks mentioned, and no plans to initiate any positions within the next 72 hours.
I wrote this article myself, and it expresses my own opinions. I am not receiving compensation for it (other than from Seeking Alpha). I have no business relationship with any company whose stock is mentioned in this article.
Related Posts: