Executive Summary

AT&T (T) just announced its first move to optimize WarnerMedia's advertising platform. According to a Reuters report. Moreover, AT&T recently provided an update on its strategy following the acquisition of Time Warner, now known as WarnerMedia, as well as guidance for 2019. Guidance includes significant expected growth in free cash flow, which will help the company achieve its target of a debt ratio in the 2.5x range by the end of 2019, as well as a low single digit growth rate in adjusted EPS. This is great news. The 2.5x debt to equity range by the end of 2019 guidance was ahead of plan. This led to several analyst upgrades and may lead to a Moody's rating upgrade. The following is our bull case.
Advertising Enhancement
Current Event
AT&T's Turner and Xandr are partnering on new, enhanced ad opportunities for 2019. According to the report:
"Just a little more than six months after coming together under the AT&T umbrella, WarnerMedia's Turner and AT&T's advertising business Xandr are working together to improve the relevancy of advertising, fueled by data and content connections.
Making advertising matter and more relevant to consumers are among the greatest challenges facing the industry today. Turner and Xandr are bringing together a unique set of assets—valuable consumer data and insights, advanced advertising capabilities and engaged passionate fanbases—all in service of marketers who want to make a real impact, and for consumers who want better experiences.
The Turner and Xandr ad sales teams have been working on the following four initiatives, with several enhanced products available from Turner today:
More relevant advertising across Turner's TV brands, with AT&T first-party set-top-box data
Using Xandr's data capabilities to fuel more relevant advertising on Turner's digital properties
Expanding the reach of branded storytelling to addressable TV
Proving the impact of advertising through attribution
CEO Stephenson's promise
CEO Stephenson stated in no uncertain terms the monetization of Time Warner's massive advertising inventory of more than 750 billion impressions will provide a massive and immediate jolt to the company's top and bottom lines. Stephenson states:
"I get really enthusiastic as I think about distribution affecting the entertainment because the easiest place and I would say the quickest benefits will come from the idea that Time Warner through Turner networks primarily has a massive inventory of advertising. Think about Turner networks and how many ad, what their ad inventory looks like in there? It's like 750 billion plus impressions per year. On the AT&T side through DirecTV primarily, but also through our mobile business, we have 150 billion 200 billion impressions per year."
So the combined entity will hold nearly one trillion ad impressions per year. This is incredibly astounding to me. Here's the kicker. Stephenson states AT&T will be able to monetize Time Warner's 750 billion ad impressions at two to three orders of magnitude higher. Now let's turn our attention to the debt.
Addressing the debt
Moody's is focused on AT&T's "willingness and ability" to reduce leverage back toward 3 times. Furthermore, Moody's is paying attention to the company's free cash flows and liquidity levels. Moody's also is reviewing the degree of subordination of the notes post-merger. The following are AT&T's positive and negative attributes according to Moody's.
AT&T Positives
Strong competitive position.
Stability, scale and diversity of revenues.
Market leader in nearly all of its businesses.
Contains valuable assets with predictable revenues and healthy margins.
Consistently investing for the long term.
AT&T Negatives
Weak financial metrics
Anemic growth
Broad vulnerability to disruption.
Balance sheet size
Free cash flow after dividends limited
Susceptible to competitive pressure, technological disruption and macroeconomic trends
If AT&T can "reduce leverage to 2.5 times debt to equity and free cash flow improves to 5% of debt a ratings upgrade to A3 might occur." Nevertheless, Moody's stated it could "lower AT&T's rating to Baa2 if free cash flow is negative or if leverage remains above 3x, both on a sustained basis."
On the other hand Moody's states regarding the current DOJ apeal:
"Judge Richard Leon of the United States District Court for the District of Columbia (DC District Court) ruled in favor of AT&T's merger with Time Warner on June 12, 2018, in a 172 page rebuke of the Government's case. Judge Leon ruled that the Government failed to meet its burden to establish that the proposed merger with Time Warner lessened competition substantially, and allowed for the merger to proceed without any conditions attached. A three-judge panel at the US Court of Appeals for the District of Columbia Circuit (DC Circuit Court of Appeals) will now consider the DOJ's argument that Judge Leon was incorrect in his judgment.

As the timing on resolution of this continuing litigation could take many months, and possibly result in additional litigation, Moody's believes this DOJ action creates significant uncertainty surrounding AT&T's strategy for its newly acquired Time Warner assets. If a final legal outcome reverses the current DC District Court decision, the company's Time Warner assets, which are held separately in a newly formed subsidiary, could be sold but potentially for less than what AT&T valued the assets for at the merger date. A behavioral or structural remedy is also a possibility that might allow AT&T to maintain some ownership or control of some or all of the Time Warner assets. However, even under a fully positive resolution for AT&T in which the current DC District Court ruling is eventually affirmed, prolonged and persistent litigation by the Government could imperil the company's ability to successfully execute any new strategy for its Time Warner assets, as well as its ability to retain talent within Time Warner operating entities, all of which could be credit negative."
So there you have it. Either the Time Warner deal produces results with AT&T increasing cash flows and reducing leverage or the DOJ appeal causes an issue and free cash flow goes negative and leverage remains above 3 times debt to equity. It looks like they are going to pull it off to me. Now let'd take a look at the analyst meeting highlights.
Analyst Meeting Highlights
"The stock is cheap on multiple metrics," analyst Colby Synesael says, saying the company appears to have a credible plan to get to EBITDA stability in its Entertainment group, the dividend looks safe and a "still unproven" advertising strategy still could drive significant upside to come.
CEO statement
The company hosted a meeting with financial analysts recently to discuss its strategy and 2019 outlook. Presenters included: Randall Stephenson, chairman and CEO; John Donovan, CEO of AT&T Communications; John Stankey, CEO of WarnerMedia; Lori Lee, CEO of AT&T Latin America; Brian Lesser, CEO of Xandr; and John Stephens, CFO. The meeting was webcast on the AT&T Investor Relations website. Randall Stephenson, AT&T chairman and CEO stated:
"We are well positioned for success as the lines between entertainment and communications continue to blur. If you're a media company, you can no longer rely exclusively on wholesale distribution models. You must develop a direct relationship with your viewers. And if you're a communications company, you can no longer rely exclusively on oversized bundles of content.

We have some of the world's best content and 370 million direct-to-consumer relationships across mobility, video, broadband and our digital properties. That exceptional combination enables us to deliver a broad spectrum of entertainment experiences — from premium video to skinnier over-the-top and mobile-centric bundles of live content, and a subscription video-on-demand product to launch late next year. And with Xandr, our advertising business, we're using insights from our customer relationships, combined with our large advertising inventory, to drive higher yields on advertising.

Our leadership position in communications and entertainment gives us a distinct advantage that will allow us to grow our share of both segments over time."
2019 Financial Guidance
AT&T went over 2019 guidance at the meeting as well.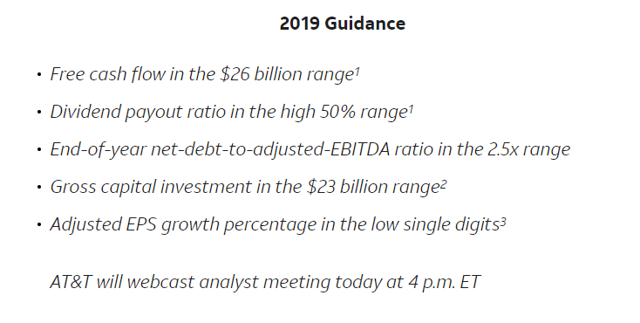 Favorable Valuation Metrics
AT&T is trading for a significant discount to its peers and the market. AT&T is actually the cheapest mega cap in the S&P 500 right now with a forward P/E ratio of 8.64.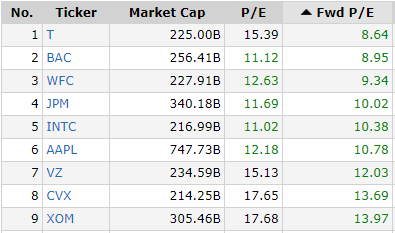 Furthermore, JPMorgan Chase raised its rating for AT&T shares to Overweight from Neutral, citing the wireless company's low valuation.
"After our recent management meetings and the company's analyst meeting we came away with a better understanding of expectations around organic growth as well as how AT&T plans to de-lever the business using organic FCF as well as asset sales," JPMorgan analyst Philip Cusick wrote on Monday, referring to free cash flow. "AT&T looks to us like it is trading like a permanently shrinking business" rather than one with stable revenue and growth in earnings before interest, taxes, depreciation and amortization, or Ebitda, expected in 2019."
Cusick reaffirmed his $38 price target for AT&T stock. In similar fashion, Cowen analyst Colby Synesael upgraded AT&T to Outperform from Market Perform.
"We think (AT&T's) plan laid out to get to Entertainment Ebitda stability appears credible, the dividend is safe and the stock is cheap on multiple metrics," he wrote on Monday. Synesael raised his price target for the stock to $36 from $34.
My 12-month price target is $38 implying a 21% upside from current levels. Now let's take a look ate the important part, the dividend.
Dividend Aristocrat status
AT&T is a Dividend Aristocrat that has increased the dividend in each of the last 33 years.

Source: Dividend.com
The payout ratio is in line at 57%.

The company's cash flow from operations is highly predictable and substantial. Even so, AT&T's big bets on DirecTV and Time Warner definitely need to pay off. Now let's turn our attention to the technical status.
Technical Status
The stock just bounced off long-term support.
Current chart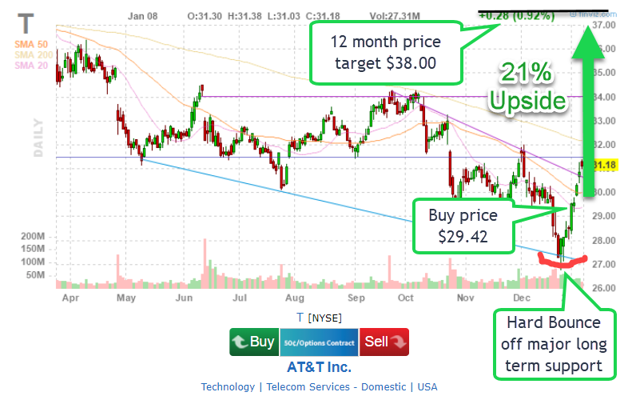 Long-term chart
I see major support at $27.50. For those of you who like to set tight stops this would be my initial level. My 12-month price target is $38.00.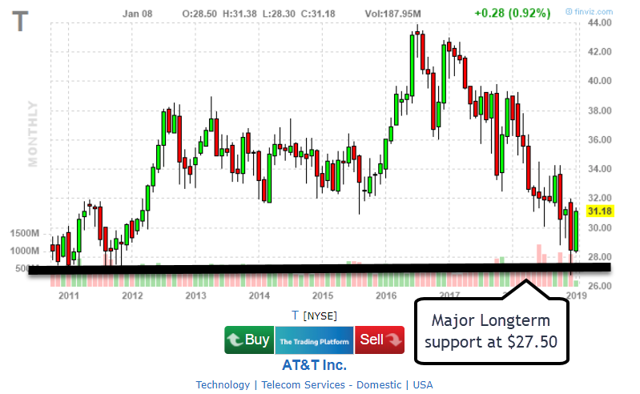 Source: TD Ameritrade
My Take
I have been behind the AT&T/Time Warner acquisition from the start simply because it looked like the right thing to do from an operations perspective. If AT&T is going to pay billions of dollars to build out the network so everyone, everywhere, on any device can access and consume content, the company might as well own it and reap the lion's share of the profits. I say this opportunity will go a long way to decreasing the debt load that so many have espoused will be the end of AT&T's dividend. Furthermore, the stock is trading at a rock-bottom valuation.
CEO Stephenson has provided shareholders another solid reason to sleep a little easier at night. What's more, the revenue-boosting characteristic of the Time Warner acquisition should be easy to implement. The increased revenue streams seem to be coming on-line sooner rather than later. The recent update has increased visibility. Add to this the recent corporate tax reform and regulatory relief, and you have a recipe for success. I say the worry about the combined entity's debt load may be fading.
The combined entity's ad revenue will be significant and orders of magnitude higher than before with the integration of AT&T's customer base to Warnermedia's content. The last and most important hurdle will be the DOJ appeal. Previously, I felt the DOJ would not take AT&T to court because I was sure they would lose. They did. Then I was sure they would not appeal due to the time of ruling the Judge provided. The DOJ still appealed. I don't see how they will be able to win the appeal. yet, it still looms large in the near future. The stock remains a solid long-term buy with its well-earned Dividend Aristocrat status.
The Bottom Line
I believe many people are vastly underestimating AT&T's prospects for growth when fully integrating WarnerMNedia. One thing is for sure, AT&T is definitely worth more today than it was yesterday. I was a consultant/auditor for Bell South in the 1990s. What's more, AT&T is a hometown stock for me. I grew up in San Antonio, Texas, the birthplace of modern day AT&T. I can tell you from my experience with the company I believe it can and will achieve its goals.
The fact of the matter AT&T is, and has always been, at the forefront of most new communications systems, and the company still owns the last mile in most marketplaces. I also was a consultant/auditor for Time Warner in Atlanta in the late '90s while working for Ernst & Young. I believe the two combined will be highly synergistic and continue to provide a boost to the bottom line. The fact is AT&T's growth prospects have increased substantially.
AT&T is transforming from being primarily a widows and orphans stock to a dividend growth/total return play. Nonetheless, don't expect any big upward moves in the stock price until the company puts the Time Warner acquisition behind it. AT&T needs to prove it can make more money despite the added debt load and revenues from wireless services waning. Nevertheless, it's always darkest before dawn. Those are my thoughts on the matter, I look forward to reading yours.
If you enjoyed this article please check out Discovered Dividends! Discovered Dividends is a highly rated top performing service with 22 5 star ratings. We are currently offering a FREE TRIAL at the legacy rate of $49/month or $399/year to the next 50 new members! At the current pace, we expect to reach the limit quickly. The Quality High Yield Retirement portfolio currently yields 8.36% and is outperforming the S&P 500 by nearly 5%.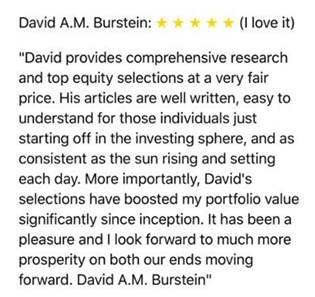 Check it out!! You have nothing to lose and everything to gain! Look forward to hearing from you!
Best regards, David Alton Clark, Founder Discovered Dividends
Disclosure: I am/we are long T. I wrote this article myself, and it expresses my own opinions. I am not receiving compensation for it (other than from Seeking Alpha). I have no business relationship with any company whose stock is mentioned in this article.